I've experienced this in my own life. When my youngest son, Peter, died on March 4, 2001, my wife and I spoke our faith and said, "The first report is not the last report." We spoke resurrection life back into Peter's body, and then we headed into town. It was one hour and fifteen minutes from the time we got the call until we got to where Peter was. During that time, I was operating in faith. I remembered prophecies that had not yet come to pass in Peter's life, and therefore, I knew it wasn't time for Peter to die. I rejoiced by faith, seeing Peter alive and well.

My oldest son, Joshua, met me at the door and said, "Dad, five or ten minutes after I called you, Peter just sat up." Thank You, Jesus! This is the point: I didn't rejoice more once I saw Peter raised from the dead than I did while I was still driving. During the drive, I knew Peter was alive, and I was rejoicing with all my might. It was actually anticlimactic when I saw in the physical what I had already seen in the spiritual. Don't get me wrong; I was blessed and I rejoiced to see my son raised up after being dead for five hours. But the physical reality wasn't more real to me than the spiritual reality of faith.

This is the way I live. I know it's not "normal," but I'm not getting "normal" results either. I've been believing big, and there have been big results from that believing. When we moved into our new offices, and when we see the warehouse finished, that was, and will be, anticlimactic. I'm seeing all these things in the spirit now. When they manifest physically, others will be impressed, but I'm impressed now.

I'm not believing for something that isn't real to become real. I've seen into the spiritual realm by faith, and I'm simply making what I've seen in the spiritual world manifest in the physical world. All of the things I'm seeing with my physical eyes now, I have already seen in my heart. I saw it on the inside before I saw it on the outside. This is a wonderful way to live. This is the normal Christian life. This is walking by faith and not by sight (2 Cor. 5:7). – Andrew Wommack Ministries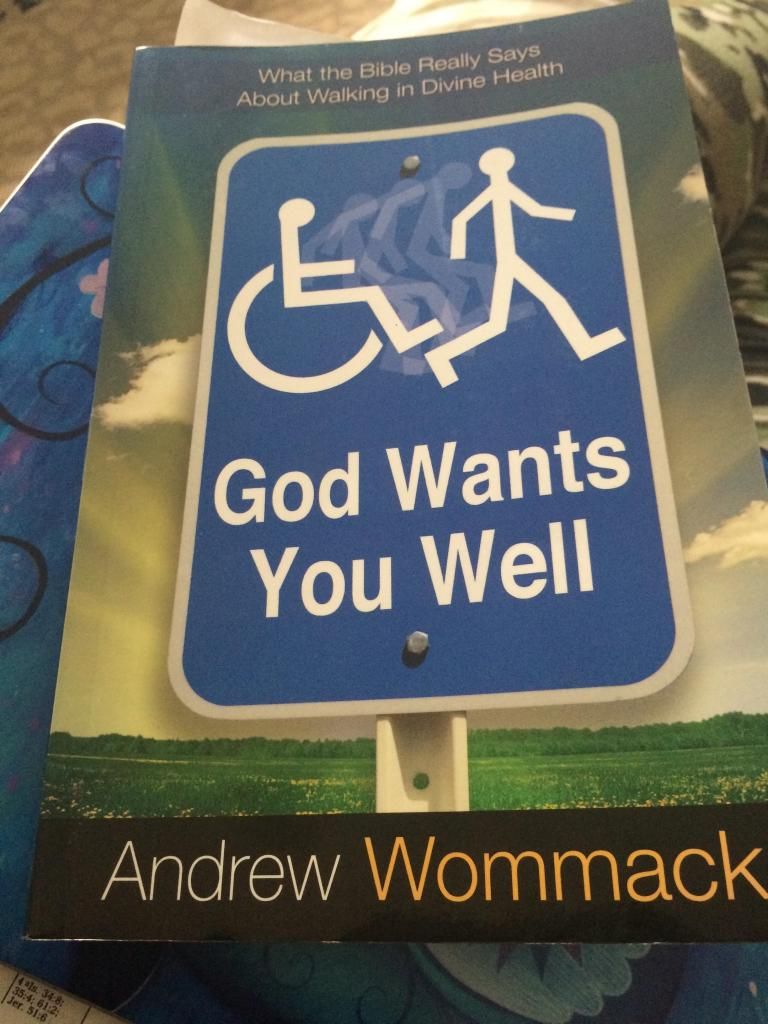 My book arrived not too long ago. i was excited to start learning more about healing, and how it's part of the atonement, and that we all have as much access to healing, as we have to the forgiveness of sins. so the journey started, and so far i have learned that God is still in the business of healing. that we need not to go any further, but to our Father in heaven, and just as we seek forgiveness of sins, provisions and all that we go to our Father for, we are also to seek in faith the miracle of a healing.
since moving to California, i have experienced increasingly severe allergies. so severe that i went from merely managing them, to most recently visiting my doctor, receiving more prescriptions, and then without further thought, settling for a life with allergies, managed by daily doses of allergy medications, which are meant to then stop all the sneezing, watery eyes and runny nose.
my mom has been visiting with us, and proclaiming healing. i didn't realize how comfortable i had gotten with my allergies, until she challenged me to proclaim healing over my allergies and my eyes. i have been wearing contacts for years, and just like my allergies, i had settled to the fact that i will forever need contacts to see.
at the same time, over the last few months i have witnessed friend after friend experience some sort of illness. not really equipped with the deep knowledge of healing, i have said silent prayers, without further declaration of scripture over each situation, and the firm belief that God still heals. God raises the dead, and there is noting impossible for God.
since then, i have been deeply convicted to declare healing over my allergies, and now my eyes.  that in as much as i enjoy God's other blessings in my life, i also have every right to the blessing of healing, and the freedom it brings.
it's definitely is a journey. i still find myself easily reverting back to my old ways. like today for example, i found myself replenishing my nasal spray stock, which immediately made me wonder if that was evidence enough of my weakness in faith. to be honest, as i look back, it was indeed the fear that i will start sneezing, and healing will not have arrived. and because my allergies bring so much discomfort, it was then the fear of my allergies ruining the rest of my day. and because i allowed fear in, i walked out of Costco with 3 nasal sprays, and the heavy lingering feeling that i needed to search my heart deeper, and give God a chance to bring healing to my body.
"Now faith is the substance of things hoped for, the evidence of things not seen." Hebrew 11:1
as i look at my own situation, and also those around me, it is almost as if we have forgotten that God truly does heal. or maybe, we have not allowed ourselves to dive deeper in faith, to believe for something as big as a healing miracle. or perhaps, like my story, it is the fear that healing might not arrive. and if it doesn't arrive today, or tomorrow, then how long are we to wait? and with those thoughts clouding my faith, it is then easy to copout as Andrew Wommack points out in his book – God Wants You Well, and give in to the temporary supply of relief. or perhaps for you, it is living in the slavery of your sins. believing that your sins are way too big for God's forgiveness. and because of that, healing can't then be asked and received, because if God has not forgiven your "big sins," how then can healing come.
"it is not a matter of God giving us healing, it's a matter of us reaching out and by faith receiving healing." page 48 – God Wants You Well
just like no sin is bigger than the other, no healing prayer is too big or too small for God to answer. it is us that God is waiting on, to honestly ask in faith and then receive in faith. before healing can truly manifest in the inside and outside, we must receive our healing in faith.
i hope today, you will begin your very own healing journey. you will scrap the doubts of the past, forgive yourself and know that it is never too late to begin your healing prayer. the same God that raised Lazarus from the dead, is the same God today. He longs so much to heal us of our illness, so that we can live a truly rich and fulfilled life. free from all the shackles of sickness, and the bondage that it ties us to.
and i know everyone's situation is different. and that God has different paths for all of us, and because of that, our journey will not always be the same. regardless of that, i know without a doubt, that we serve a miracle working Father. one whose plans for us, are never for evil, but good. and even in the worst of situations, i know that our God can turn whatever is meant for evil, for our good and bring glory to His name.
my encouragement for us who are still alive today, is to cover ourselves in prayer and fasting. believing that no illness is too big for God's healing hands. to seek tirelessly for healing, and receive it in faith. let's not worry about tomorrow, instead let God take care of tomorrow. for He alone, knows the end from the beginning. if we dare to remain in the present, seek healing in faith, God will be right there to receive our prayers and move us to the next level.
for me personally, the journey to seek complete healing for my allergies, and my eyesight continues. in prayer and fasting, i am believing for complete restoration and healing. in fact, i have no doubt that my healing has all along been waiting for me.
"Elisha prayed, and said, LORD, I pray thee, open his eyes, that he may see. And he LORD opened the eyes of the young man; and he saw: and, behold, the mountain was full of horses and chariots of fire round about Elisha." 2 Kings 6:17
until next time, i leave you with this song by Lauren Daigle.
i particularly, love these words, "these hands are dirty, i dare not lift them up to the Holy one. you plead my cause, you right my wrongs, you break my chains, you overcome…" i think this song truly reflects the way many of us perceive ourselves in the eyes of God. wondering, how God can still have mercy on us, even with all our imperfections. and in aligning with today's blog, we are then held in slavery, and healing then feels like miles away from us.
[to listen, please pause the blog music on the far right top section of the blog]
love: Christine